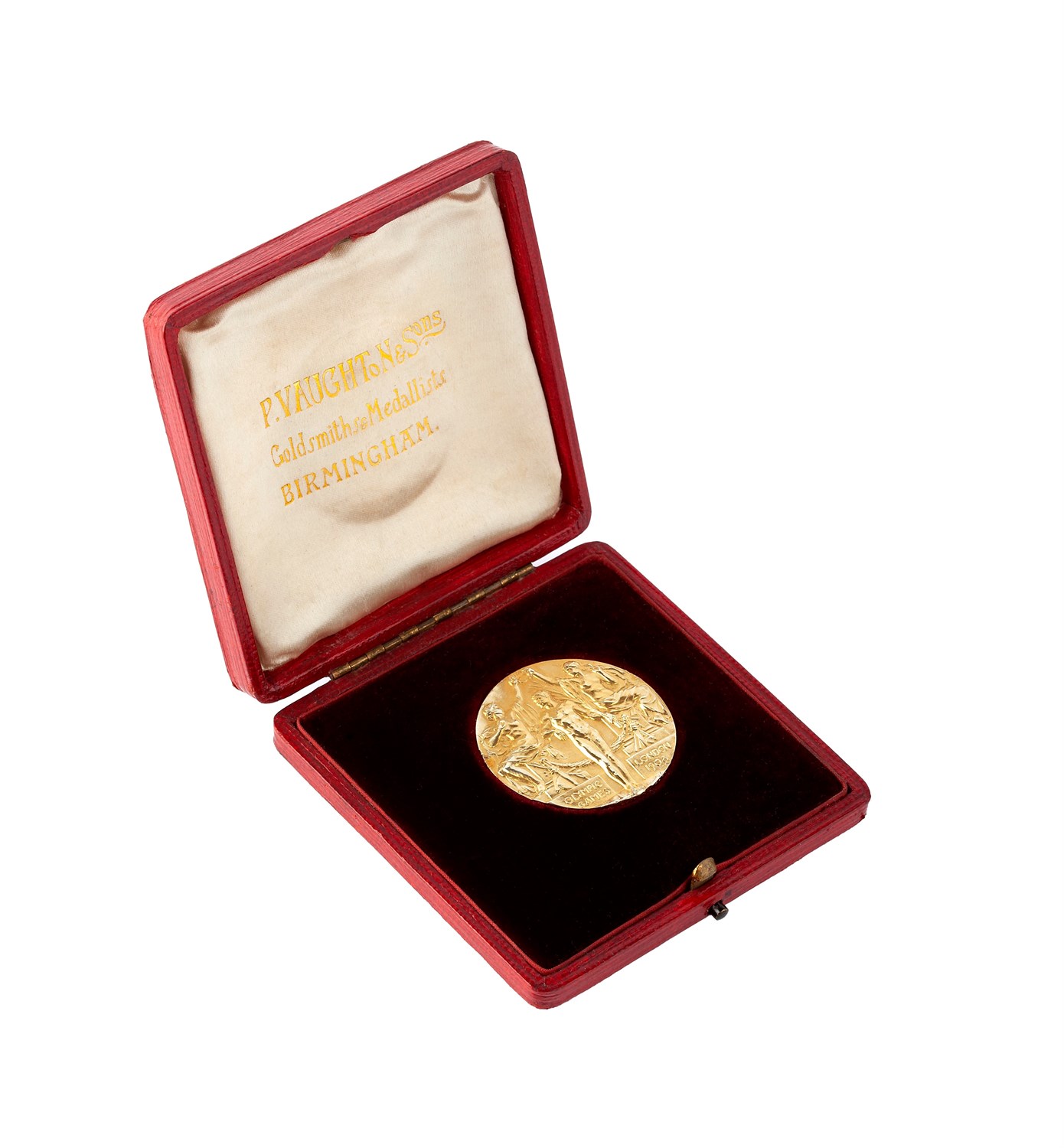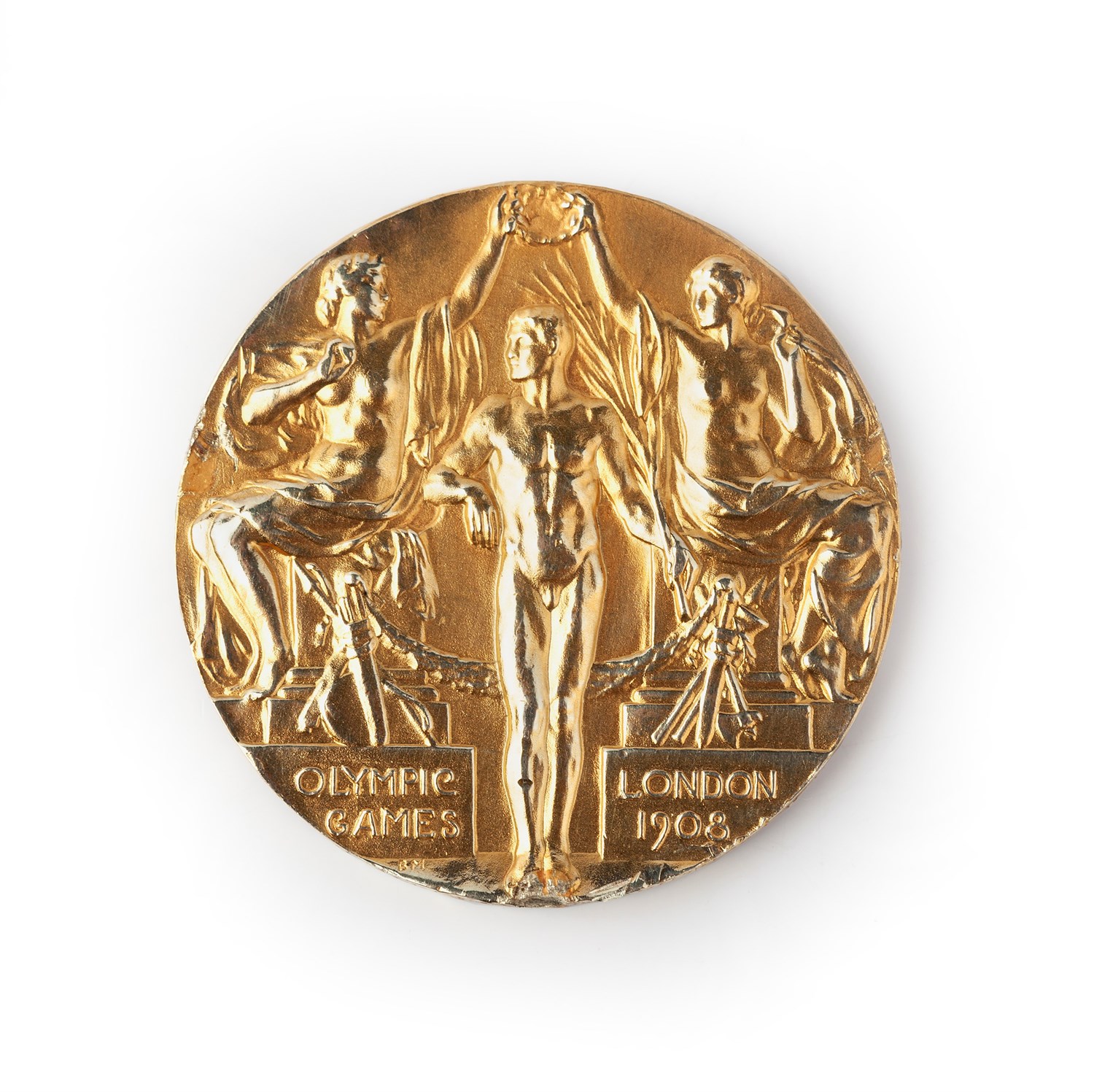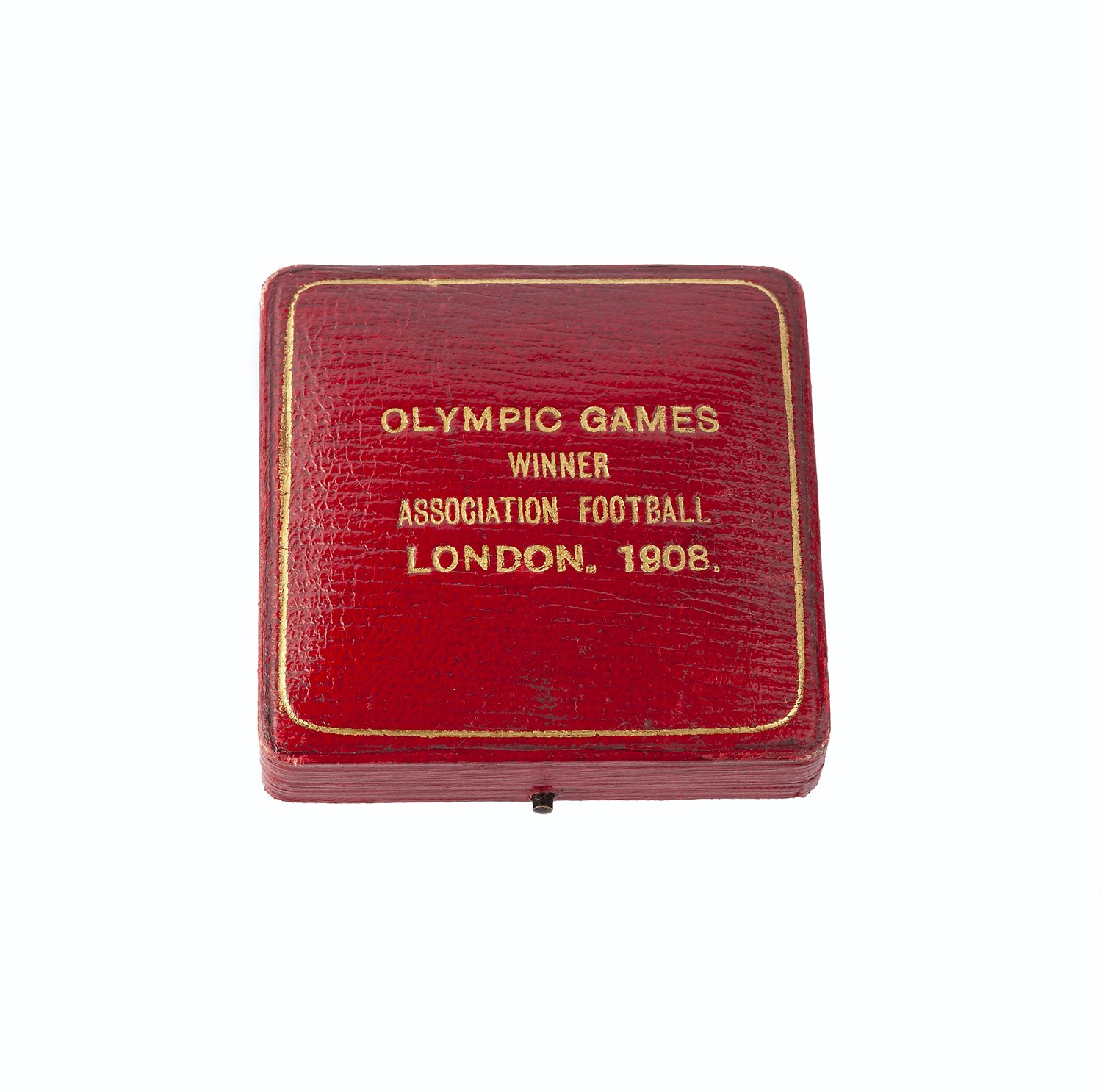 A gold medal from the 1908 London Olympics awarded to a Manchester United legend comes up for auction at Mallams Oxford next month. Harold Hardman's gold medal symbolises his journey from amateur footballer and solicitor to chairman of the Red Devils in the era of the Busby Babes, and is expected to bring £10,000-15,000 in the Jewellery & Silver Sale on November 14.  
The fourth modern Olympiad, held at short notice in London in 1908, was the first to include an official 'association' football tournament. Only eight teams entered the competition, with the hosts beating Denmark 2-0 in the gold-medal match in front of 8000 fans at the White City Stadium on October 24. Wearing the number 11 shirt for Great Britain, playing outside left, was Harold Payne Hardman (1882-1965). 
Born in Manchester, Hardman was discovered as a schoolboy by Second Division Blackpool. He made his debut as an 18-year-old in a home draw against Gainsborough Trinity on September 8, 1900, the first competitive game ever played at Blackpool's Bloomfield Road ground.
Hardman signed for Everton in 1903 for a fee of £100, appearing for the Toffees in the 1906 FA Cup winning side, but after Olympic gold he returned to Manchester to open a solicitor's practice in the city. 
Although capped by Manchester United on just four occasions in the 1908-09 season, Hardman's association with his boyhood club lasted for the rest of his life. After stints at Bradford and Stoke, he was first appointed a MUFC director in 1912 and served as chairman from 1951 until his death in 1965. During his tenure as chairman the club won four league titles and saw the creation of the famous 'Busby Babes' team under the management of Sir Matt Busby. Hardman's poignant response to the Munich air disaster, which claimed the lives of 23 people, including eight players, was published on the front page of the 'United Review' match programme, against Sheffield Wednesday, on February 19 1958, 'Here is a tragedy which will sadden us for years to come, but in this we are not alone. Although we mourn our dead and grieve for our wounded, we believe that great days are not done for us... The road back may be long and hard but with the memory of those who died at Munich, of their stirring achievements and wonderful sportsmanship ever with us, Manchester United will rise again.'   
His 1908 Olympic medal, lot 399 in the Jewellery & Silver Sale, comes to auction from a descendant.  
The 1908 Olympic medal - a brief history
Australian sculptor and medallist Bertram Mackennal was commissioned to design the medals for the 1908 summer games. He chose a scene of two female figures placing a laurel crown on the head of a victorious athlete, while to the reverse is Saint George and the Dragon in the company of the winged figure of Victory. The medals - awarded in 110 events - were minted by Vaughton & Sons in Birmingham's Jewellery Quarter, a firm that still makes medals for the Football League. Unusually the 1908 winner's medals were cast in solid 15ct gold, rather than the silver-gilt common to most Olympic 'gold' medals.
Harold Hardman's medal, hallmarked for 1907, is engraved to the edge 'Winner Association Football'. It retains its original fitted case inscribed 'Olympic Games, Winner, Association Football, London, 1908' and comes with a later brooch fitting. 
For more information contact Louise Dennis, head of jewellery, Mallams Oxford
E: louise.dennis@mallams.co.uk
T: 01865 241358