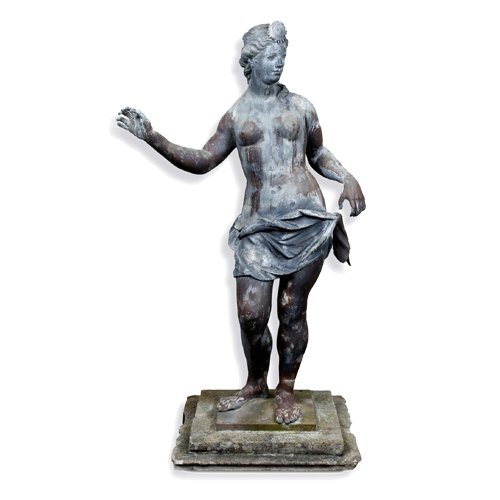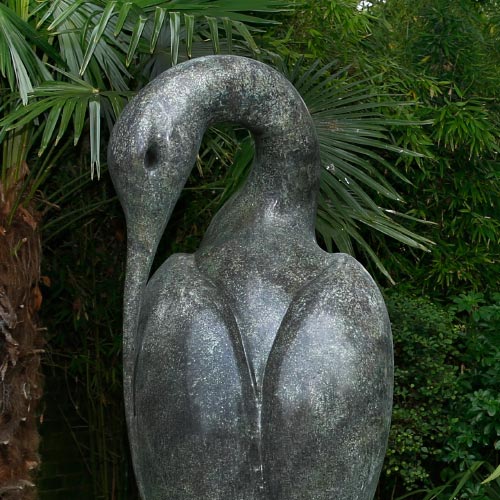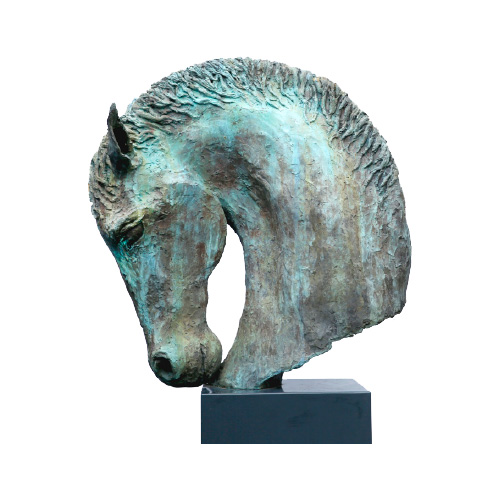 AUCTION RECORD £70,000 FOR GUDGEON BRONZE KNOWN FROM HYDE PARK AND HIGHGROVE HOUSE

GEORGIAN ALLEGORICAL LEAD FIGURE OF SUMMER IN THE MANNER OF JOHN CHEERE SELLS AT £19,500
Sculptures from the 18th and the 21st centuries shone at the October 10-11 House and Garden auction at Mallams' saleroom in Abingdon.
Made more than 250 years apart, both brought impressive five-figure sums.
The Oxfordshire saleroom now hold the auction record for a work by the Yorkshire solicitor-turned-sculptor Simon Gudgeon.
The monumental patinated bronze bird titled Isis, Goddess of Nature was first unveiled in Hyde Park in 2008. One thousand plaques applied to the base were sold to donors at £1000 each, as a way of funding the park's nature study centre.
Other casts of Isis are at Prince Charles' Highgrove House in Gloucestershire and the National Museum of Wildlife Art in Wyoming in the United States where Gudgeon has developed a strong following.
Mallams' 2.08m bronze, raised on a polished marble plinth, was number one of a series nine produced for the Mayfair dealership Halcyon Gallery and the first to reappear on the market since the edition sold out in 2009. It sold at £70,000 (plus buyer's premium).
Equally recognisable in its own way was an 18th century lead figure of a life-size classical semi-nude woman emblematic of Summer. Standing 1.85m high on a stepped stone plinth, she holds one arm outstretched with a blazing sun headpiece positioned above her forehead.
It was in the manner of the English sculptor John Cheere (1709-87) who ran a thriving business in Kensington producing high quality lead figures for the gardens of the British aristocracy during the 1740s and 1750s. Doubtless once part of a spectacular set of four figures emblematic of the Seasons, she sold at £19,500.
Auction record £70,000 for Gudgeon bronze known from Hyde Park and Highgrove House
Georgian allegorical lead figure of summer in the manner of John Cheere sells at £19,500
Blending modern and traditional and both indoor and outdoor furnishings, the twice-yearly House and Garden sales in Abingdon overseen by director Henry Cooke are unlike any other auction in the Mallams calendar.
A place where professional interior decorators rub shoulders with home furnishers, this was the sale to find period classics like an early 20th century upholstered armchair by Howard and Sons (£2800) or an impressive 4.8m oak refectory table c.1900 with cleated ends and three heavy x-shaped supports (£3800).
Quirky decorative objects also found a ready market with a taxidermy kiwi mounted in an oak and glass case sold at £1100 and an Edwardian tournament croquet set in pine box by Slazenger & Son bringing £300.
Contact department specialist Henry Cooke on 01235 462840 henry.cooke@mallams.co.uk