The upcoming Jewellery, Watches & Silver Auction at Mallams November 15-16 offers an opportunity for buyers to bid on pieces of jewellery by one of the great 20th century British artist-jewellers.
John Donald was one of a few British experimental jewellery designers, such as Andrew Grima and Stuart Devlin, to be boosted to world-wide fame by the groundbreaking International Exhibition of Modern Jewellery 1890-1961, held at Goldsmiths' Hall, 1961. 
Donald's experimentation was part of a shift in focus from the size of precious gemstones to the increased value in design and form, which was emblematic of the groundbreaking jewellery of the period.
As active at the bench as in design, he was working on private commissions well into his retirement. Donald passed away, aged 94, on September 21 this year.
Hailed in his Daily Telegraph obituary (October 10, 2023) as "one of the most innovative and influential jewellers, goldsmiths and silversmiths of the 20th century" Donald established himself as society jeweller, becoming a firm favourite of the late Princess Margaret.
Lot 183 (pictured below) in the Oxford sale is an 18ct gold collar necklace by John Donald, designed as a series of articulated abstract nugget-shaped panels, signed JAD and hallmarked for London 2004, length 41cm. Estimate of £1,500-3,000 plus 30% BP
Marked for the year of Donald's retirement the piece is both eminently wearable whilst embodying the experimental sensibilities of his career. A similarly designed bracelet can be seen in his book – an autobiographical chronology - Precious Statements, by John Donald and Russell Cassleton Elliott, McNidder & Grace, 2015, page 128.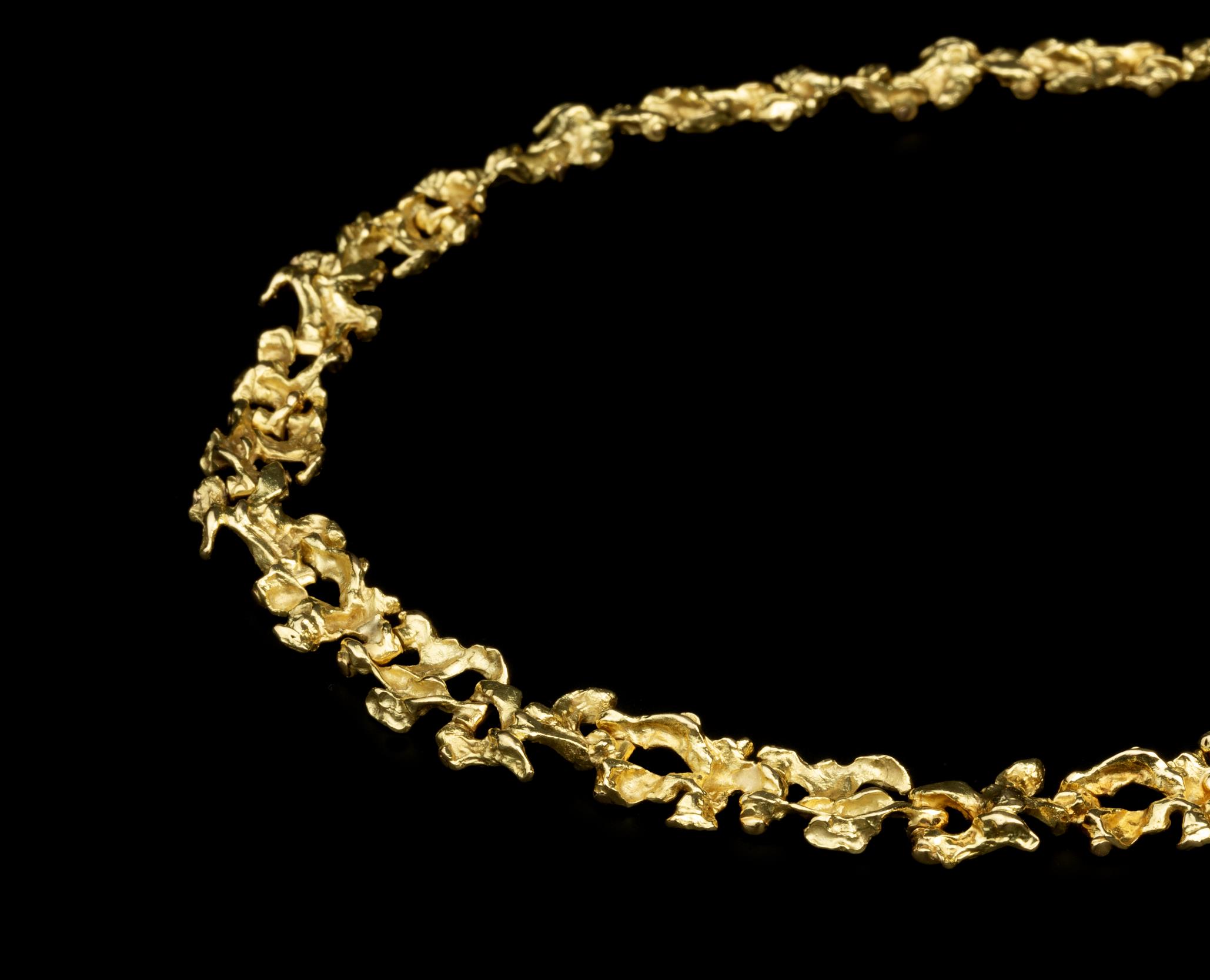 Lot 182 (pictured below) features pieces inspired by Donald's love of both nature and floral Victorian jewellery. The lot includes an emerald and rock crystal dress ring by John Donald, the abstract textured panel enclosing a carved rock crystal flowerhead, with central circular mixed-cut emerald accent, framed by beaded wirework, 18ct gold mounted, signed JAD and hallmarked for London 1992, accompanied by a pair of similarly set ear clips by John Donald, each abstract textured panel enclosing a carved rock crystal flowerhead, with central cabochon emerald accent, on clip fittings, signed JAD, with partial London hallmarks, ring size N, ear clips length 1.65cm.  Estimate of £300-500 (plus 30% BP)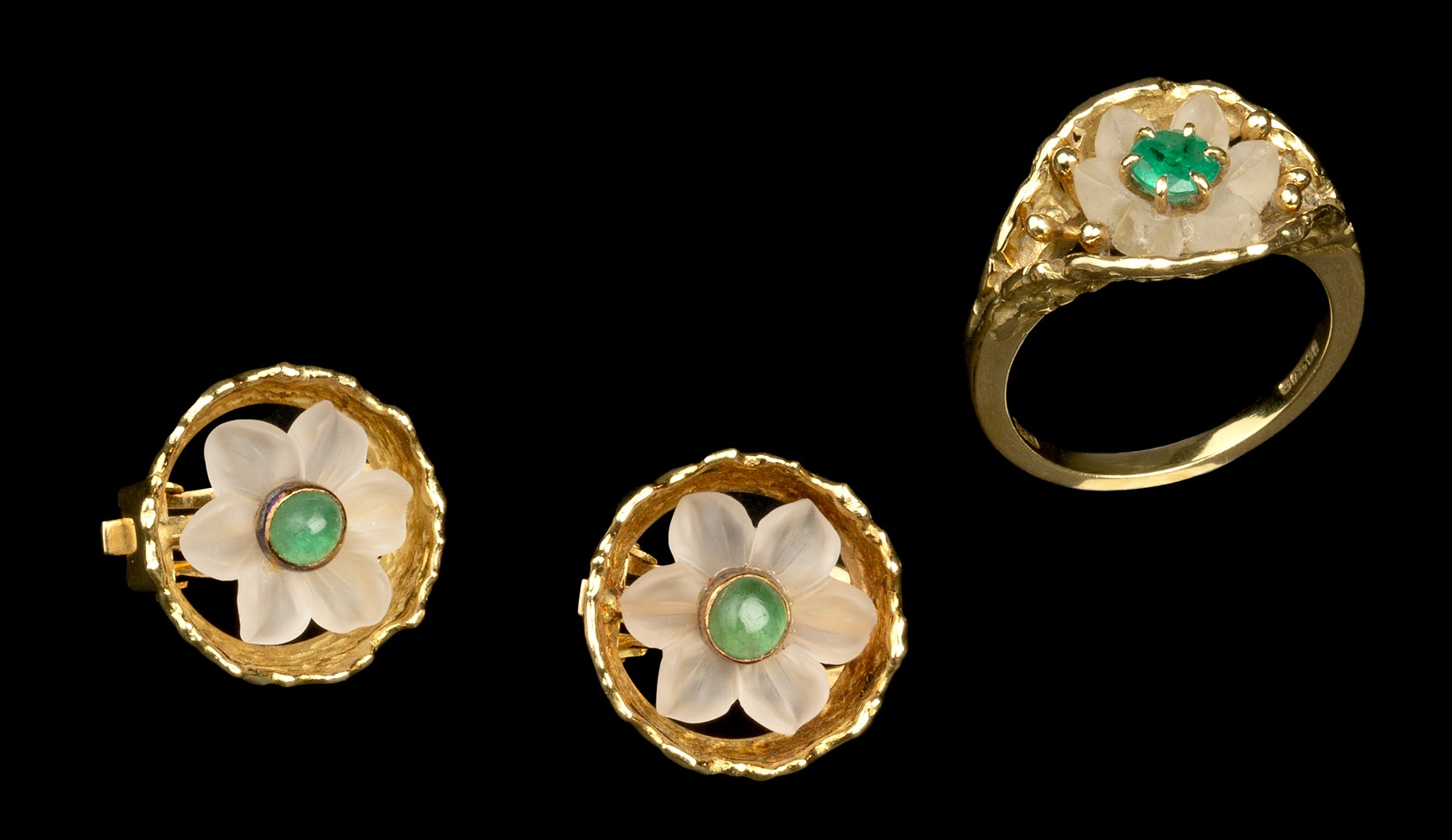 Viewing for the upcoming sale is at Bocardo House, St Michael's Street, Oxford, by appointment only on the following dates (photo ID required):
Friday 10 November 10am - 4pm
Saturday 11 November 10am - 1pm
Monday 13 November 10am - 4pm
Tuesday 14 November 10am - 4pm
For further information or to consign for future auctions contact Jewellery Specialist Melissa Lee-Patrick FGA DGA by email at melissa@mallams.co.uk