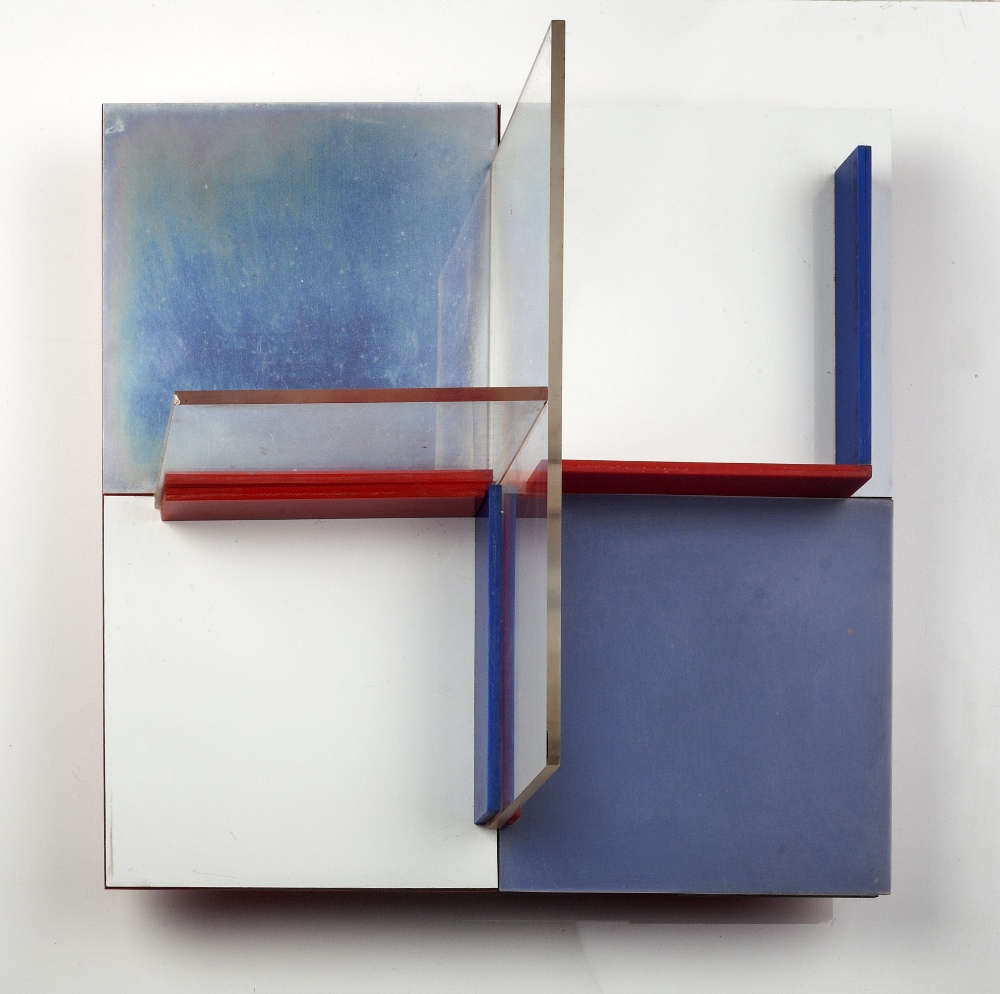 OXFORD SALE BRINGS RECORD FOR CONSTRUCTIVIST GROUP MEMBER PRINT FROM DAVID HOCKNEY'S STUDENT DAYS BRINGS £6,400
Mallams auctioneers in Oxford established a new record for British artist Gillian Wise (b.1936) on May 19. Estimated at £2,000-3,000, Construction, 1963-1964, made in perspex and aluminium, sold for £15,000 – three times the previous auction high.
Wise, the Essex-born British Modernist, is best known for these mixed media works produced from the 1950s onwards, and examples formed part of Tate Britain's influential year-long display, Construction England in 2010.
This composition, measuring 57cm x 57cm and monogrammed and inscribed to the reverse, dates from a key period when Wise (the youngest member of the Constructivist group, which in England centred on Victor Pasmore) held an exhibition with Anthony Hill at the Institute of Contemporary Arts in London.
It was purchased at an ICA auction c.1967-68.
The previous high for Wise was the £5,500 posted for Counter Rhythms & Levels, a larger stainless steel, cellulose paint and wood relief from 1982 at Christie's South Kensington in  2013.
An early work by David Hockney, Kaisarion with All His Beauty, 1961, sold at £6,400. The etching and aquatint printed in black and red and signed and dated in pencil in the margin lower right is from an edition of approximately 50 printed by Ron Fuller and Peter Matthews at the Royal College of Art, London.
Typical of the Dubuffet-inspired style of Hockney's student days, the source for this print is the homoerotic poetry of CP Cavafy. It had been purchased by the consignor at the Bear Lane Gallery in Oxford in 1963.
Prints by LS Lowry (The Cart, £3,600), CRW Nevinson (Le Port, £2,000) and Julian Trevelyan (Valetta, £1,400) all produced strong prices but predictably this section was led by Tête de Femme (B. 947) by Pablo Picasso (1881-1973). Signed in pencil and inscribed No.44, Tête de Femme, 1959-60 to the reverse, this is one of approximately 20 artist's proofs aside from the edition of 50.
Acquired at Galerie 65, Cannes, in 1966, and still unframed, it sold for £12,500.